Tweet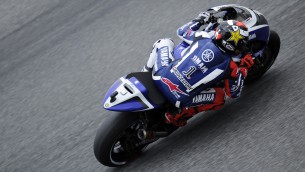 The back to back races offer an opportunity for the riders to pick up quickly where they left off in The Netherlands where they celebrated the first of the year's 50th Anniversary of Grand Prix racing events. The Tuscan circuit is just two hours drive from the team's headquarters near Milan and is an honorary home race for the team.

Lorenzo has a strong record at Mugello, winning in the 250cc class and claiming two premier class second place finishes in 2009 and 2010 with the Yamaha Factory Team. Spies performed well on his first visit to the Italian track last year, taking seventh after an intense battle which saw him ride as high as fourth at times.

Mugello can lay claim to being one of the fastest circuits in the world. The main straight is over a kilometre long and witnesses speeds of over 320km/hr by the GP riders before dropping into the downhill right hand corner at the end. Combine this with varied camber and gradient changes, high speed chicanes and an extra wide track and the thousands of passionate fans who flock to the surrounding hillsides are guaranteed some intense racing action.

Ben Spies: "These few days off seem to have taken forever, when you finish a race like Assen you just want to get straight back in and try to do it again. My first GP victory still hasn't sunk in properly; it was pretty special for me to be able to do it at such a legendary circuit and at this unique time in Yamaha's history. The red and white livery definitely bought me luck! I'm looking forward to Mugello, the track has apparently got a new surface with lots of grip so it should be pretty good for the bike and pretty exciting for the fans."

Jorge Lorenzo: "We are going to Mugello with no time to rest and think about what happened last Saturday. The team did a great job and I believe now the bike can be better, we can make a step forward. We have to be positive after all! Mugello is a track I like so much, maybe one of the most beautiful in the world, and is my favourite along with Phillip Island. This track is full of chicanes and this year there is new asphalt! I've never won in MotoGP, but we will try this year and give a show to all our fans. Also I hope the weather changes after the previous races - summer has arrived."