Tweet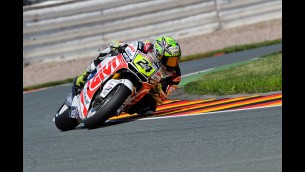 The reigning Moto2 World Champion worked on getting more feeling and easier handling from the front end of his RCV at the twisty race track but after another good start Elias had to face his usual problems with the rear managing to finish the race in 16th position. Now LCR Team will move straight to Laguna Seca circuit for the USA GP on the 24th of July.
Toni Elias:
"Yesterday we thought we made a good step forward and I was hoping for a better result. But at the beginning of the race with a full tank of fuel when the bike was heavier, I struggled a lot to control it. Suddenly, our usual problems came back again and I started to lose the front in the braking and had no confidence in the rear. I managed to cross the line in 16th position, but obviously I am very frustrated. I don't want to lose my motivation and concentration. We'll see what's going to happen at Laguna."
LCR Honda press release.