Tweet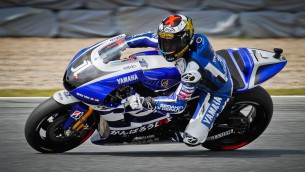 A superb victory at the Assen TT for Ben Spies followed by a flawless ride by Jorge Lorenzo to claim the chequered flag at Mugello has left the team and riders eager to get straight to business in Germany.
Sachsenring remains one of the few tracks on the GP calendar where Lorenzo has yet to win, taking second place on the podium in 2009 and again in 2010. Last year's race had been looking like another victory for the Championship leader until a red flag changed the circumstances. The reigning World Champion will be looking to add the circuit to his list of vanquished tracks on Sunday.
Spies has unfinished business in Germany; the Texan was characteristically quick to learn the circuit on his first visit last year and had been on track for a strong grid position until an incident packed qualifying saw him relegated to 13th. Despite the setback the then MotoGP rookie put in a blistering performance and was at times one of the five fastest on track, eventually finishing in a hard fought eighth place.
Jorge Lorenzo:
"I feel very good after our victory in Mugello; an amazing victory that we needed for our confidence. We'll take more power from it for future races, especially for the next two in a row. Now it's time for Germany; Sachsenring is a unique track which I've ridden since 2002 and still not won! I would like to do it, it's an interesting challenge in front my German fans. The team and I are ready to again try to reduce the gap to Casey, our aim is the podium, but we will try to push for the win."
Ben Spies:
"I'm really looking forward to the next two races. I got on pretty well at Sachsenring last year; the end result didn't reflect how good we were. I think if qualifying had not been so incident filled we would have started closer to the front. We are in pretty good shape right now with the team, the bike is feeling really good, I'm feeling confident on it and the results are showing it. Of course afterwards we head to my home race in the US and I get to run the red and white colours again!"
Wilco Zeelenberg:
"I'm very much looking forward to the next two rounds after a great race in Mugello, coming back from a difficult period to win again. When we are able to deliver a great package like in Italy then Jorge is able to fight for victory. That is our target again in Sachsenring and Laguna. It is very important to make these next two rounds count before the holidays; we are only 19 points behind the lead with still half the season to go so anything can happen."
Massimo Meregalli:
"We are going to Germany with some optimism, in the last few races we got good results and we would like to continue this. In the last three years Yamaha proved to have a good bike for the Sachsenring track and we have a good set up for both riders now. I don't know the circuit myself, it will be my first visit with the team but I am confident that we can perform well after looking at our history there."
Yamaha Factory Racing press release