Tweet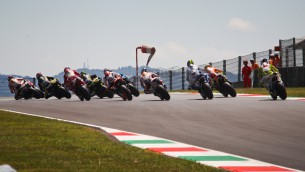 50 years - The first East German Grand Prix was held at the Sachsenring circuit in 1961. The original circuit used for this event was a closed road circuit 8.73km in length.
50 - Casey Stoner's third place finish at Mugello was the 50th time he has stood on the podium in MotoGP. Only two Australian riders have more podium finishes in the premier-class: Doohan – 95, Gardner – 52.
45 years - On race day in Germany it will be exactly 45 years since Frantisek Stastny won the 500cc race at the 1966 East German Grand Prix. This was the only 500cc win by the Jawa and the only 500cc win by a Czech rider.
30 - Anthony West celebrates his 30th birthday on race day at the German Grand Prix.
21 - Johann Zarco celebrates his 21st birthday on the day of qualifying at the German Grand prix.
14 - The first visit to the newly built Sachsenring circuit was in 1998 and it has hosted a GP event every year since, making this the fourteenth successive year that a Grand Prix event has been held at the circuit.
12 - The original Sachsenring road circuit hosted a GP event for twelve successive years from 1961 until 1972, after which the circuit was considered too dangerous for Grand Prix racing.
5 - Valentino Rossi is the rider with most victories at the new Sachsenring circuit with 5 wins (1x 250cc, 4 x MotoGP), followed by Dani Pedrosa with four wins (2 x 250cc, 2 x MotoGP).
5 - Since the introduction of the four-stroke MotoGP class in 2002, Honda have been the most successful manufacturer at the Sachsenring circuit with five wins, followed by Yamaha with three and Ducati with a single victory in 2008.
3.508 kms - The new Sachsenring circuit was first used in 1998 and was initially just 3.508km long with one short section of track from the old road circuit. Major modifications to the circuit in 2001 and then additional slight alterations in 2003 resulted in the current 3.671 km track layout.
4 - Since Grand Prix racing returned to the Sachsenring circuit in 1998 there have been four podium finishes by home riders: Ralf Waldmann was third in the 250cc race in 1999, Steve Jenkner was third in the 125cc race in 2002, Stefan Bradl finished 2nd in the 125cc category in 2008 and Sandro Cortese finished third in the 125cc race last year.
3- There have been three different winners in the MotoGP class in Germany over the last three years, riding three different makes of motorcycle; 2008 - Stoner (Ducati), 2009 - Rossi (Yamaha), 2010 - Pedrosa (Honda)
2 - Two German riders won at the old Sachsenring circuit: Ernst Degner (MZ) won the 125cc race in 1961 and Dieter Braun won the 250cc race in 1971 riding a Yamaha.
0 - None of the riders starting the 125cc race at the Sachsenring has previously won a GP race in Germany.