Tweet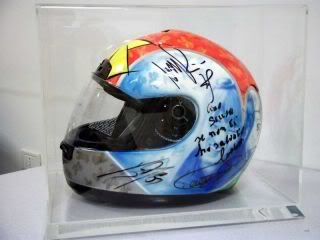 The E-bay auction for the rider paraphernalia donated during the Dedikato 2010 event, is set to be resumed. The first auction was suspended immediately following the San Marino Grand Prix, out of respect for the memory of Shoya Tomizawa and his family's mourning. All proceeds from the auction will go to the Foundation for Cystic Fibrosis Research, founded by Matteo Marzotto.
The auction will begin again on October 29th, on eve of the Portuguese Grand Prix, and conclude on November 8th, following the Valencia GP.
Numerous objects will be available for bidding including: a Shoei helmet autographed by all of the Shoei riders, a pair of Valentino Rossi's race boots, pairs of gloves from Marco Simoncelli and Toni Elias, a set of leathers worn by Marco Melandri, and more boots from Nicky Hayden and Dani Pedrosa.
There will also be some stranger items available, such as a pair of autographed gym socks worn by Marco Simoncelli, which he took off and donated "live" during the Dedikato event.
Anyone interested can find further information on the website
www.dedikato.com
or directly on E-bay.
One item which will not be available is the special edition helmet, designed by artist "ONE", featuring the likeness of Dajiro Kato and signed by all of the riders present at the 2010 Dedikato event. The Mayor of Misano, Stefano Giannini, and the President of Misano events, Luigi Bellettini, decided to present the helmet to the family of Shoya Tomizawa in a private event held after the Grand Prix.