Tweet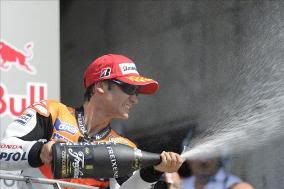 After promoted to MotoGP class, Dani Pedrosa never won podium more than twice in one season. This year at Indianapolis race, the spanish rider proved that he can do that. He brake his own record after his 3rd winning on 2010 MotoGP season. In this 2010 season, Pedrosa gain 1st place at Mugello and Sachsenring circuit.
"Finally I broke the record three victories in a season since 2006 this year I take part in the MotoGP. I managed to look good at the end of the race and not make mistakes. I hope the next series could do the same results with this, "Pedrosa delighted after the race underway.
"The condition of the circuit is hot enough, I can not choose other than a compound tires hard. Because if I use a soft compound, I'm just not stable in the corners. Moreover, because the circuit conditions are hot, the track surface so as greasy and slippery, "added Pedrosa again.